Welcome to the Ivan Behymer photo album. This site is being built to find members of the Behymer and/or Stewart families that I might be related to...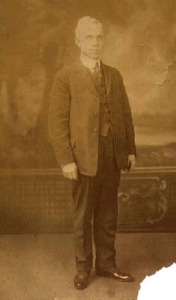 Ivan Behymer Circa 1905...
My Grandfather Ivan (NMI) Behymer... Additional Information...Gary, I hope this is the correct family. William M.(anford?) Behymer marr 1) Anna Leach on Jun 19, 1845 in Ripley, IN. William was born about 1825 in Clermont Co, OH to John Lewis and Jane (Meeker) Behymer and grand- son of Nathaniel and Anna Magdalena (?Ferguson?) Behymer, the later came to Clermont Co, OH from Virginia and was a brother (or thought to be) of my John and Barbara (Weddle) Behymer. Their were 8 children of this marriage. The mother died about 1867 in Noble, Richland Co, IL. William married 2) Susan Cole +/- 1868 either IL or MO. As far as I know, there were 4 children of the 2nd marriage. William was in the 1880 Rockford, Boone Co, MO in 1860 still married to 1st wife and 4 children of 1st marriage. William was in 1870 Richland Co, IL, no wife shown in this census. Susan was in Mt. erie, Wayne, IL in 1880 - no husband shown. One researcher also said that William m 2 to a Susan Ely, another said Susan Cole. In 1880 a Susan Behymer married to a Samuel Ely on Mar 15, 1883 in Wayne Co, IL...could this be Susan Cole Behymer? Anyway, it looks like the child- ren were: 1. James Elmer born May 1871 MO. He married Charlotte Jane Hatfield, Jan 12, 1892 in Protem, Taney, MO. James was living in Taney, MO in 1900. 2. Ivan Behymer b. 1871 IL. He married Elizabeth Anthony Campbell in 1902, Nashville, Davidson, TN. Ivan died 1938 Detroit, Wayne, MI. 3. Erasmus Manford Behymer, born Sep 17, 1874, Richland, Noble, IL He married 1) Sarah Elizabeth Ford, before 1895, maybe Protem, MO. He married 2) Vertie Augusta Dowell Lyle, after 1920. His SS#525-36-7353-Erasmus. He died Nov 1971 res. KY. 4. Viola b 1876 White, IL. nothing further. This was quite a large family group and a lot of them went to Richland/White counties, IL. Sallye.